Sustainable progress through insulation
Recticel's sustainability journey began in 2013 and we have repeatedly updated our objectives with more ambitious targets. For many years, we have promoted thermal and acoustic insulation as a key 'weapon' in the fight against climate change, due to its impact on energy conservation, emissions reduction, indoor climate management and improved living standards.
In 2023, our ESG strategy is based on two pillars: Our Race to Net Zero and Our Race to Maximum Performance.
Our Race to Net Zero is a detailed plan for Recticel's shortterm and long-term fight to mitigate global warming. Based on clearly defined materiality topics and KPIs, it will ensure that we maximise our positive climate impact, boost circular efficiencies and, at the same time, sustain our competitiveness. In October 2022, we formalised our commitment to a net zero economy by joining the Science Based Targets initiative (SBTi), a global project driving concrete action by enabling organisations to set emission reduction targets that are grounded in climate science. We have committed to two targets: to become a net zero emission company on Scopes 1 and 2 by 2030; and to reach net zero on Scope 3 by 2050 at the latest. Our roadmap to becoming a net zero company will be validated by SBTi in 2023.
Our Race to Maximum Performance is our blueprint for maximising the contribution of our people and solutions. Also underpinned by relevant materiality topics and KPIs, it sets out targets in areas such as safety, training, diversity and employee satisfaction. The plan also outlines our goals for product certifications, eco-design principles and sustainability practices at work.
Our carbon roadmap
To set near-term SBTs: 5-10 year emission reduction targets in line with 1.5°C pathways.
To set long-term SBTs: target to reduce emissions to a residual level in line with 1.5°C scenarios by no later than 2050.
Beyond value chain mitigation: in the transition to net zero, companies should take action to mitigate emissions and finance removals beyond their value-chains. For example, purchasing high-quality, jurisdictional REDD+ credits or investing in direct air capture (DAC) and geologic storage.
Neutralisation of residual emissions: GHGs emitted when the company has achieved their long-term SBT must be counterbalanced through the permanent removal and storage of carbon from the atmosphere.

Our SBTi targets:
Near-term (2030): Scopes 1, 2 net zero & Scope 3 reduced by 25.0%
Long-term (2050): Scopes 1, 2, 3 net zero
Our Climate Action plan and People & Solutions plan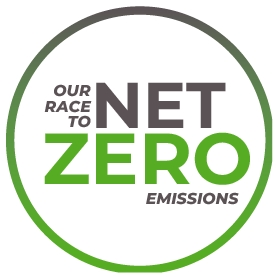 Objectives:
Fight climate change through decarbonisation and resource efficiency
Deliver on our SBTi commitment
Targets:

Net zero Scopes 1 & 2 by 2030
25% reduction Scope 3 by 2030
Net zero Scopes 1, 2, 3 by 2050

Target activities

Reduction of direct energy consumption & electrification

Conversion process energy (from gas to heat pumps)
Optimisation electrification
Increase owned energy (solar panels, wind mills, …)
Zero emission company vehicles

Decrease in product carbon intensity from key suppliers
Zero waste to landfill
Increased usage of harvested water
Recovery of EOL value
Reduction of distribution inefficiency

Objectives:
Foster a trustful and caring culture; stimulate empowerment and collaboration; embrace Simply Safe; develop talents and skills
Maximise our products' contribution for people, planet and society
Targets:

Safety performance

Frequency 1: ≤ 2 by 2030
Frequency 2: ≤ 5 by 2030

Employee satisfaction

Deploy employee Net Promotor
Score (eNPS) in the organisation

Diversity & inclusion

25% women overall by 2030
25% women in management position
(≥ Hay Grade 18) by 2030

e-learning (completion rate: ≥95%)

sustainability, cybersecurity,
governance, Simply Safe

Target activities

Sustainable practices at production site
Certification: VOC+, highest certification to date on volatile organic
compounds (VOC) for all PIR products by 2030
Ecodesign: transition to increased detachable, recyclable and circular products
Our sustainability indicators – Climate action plan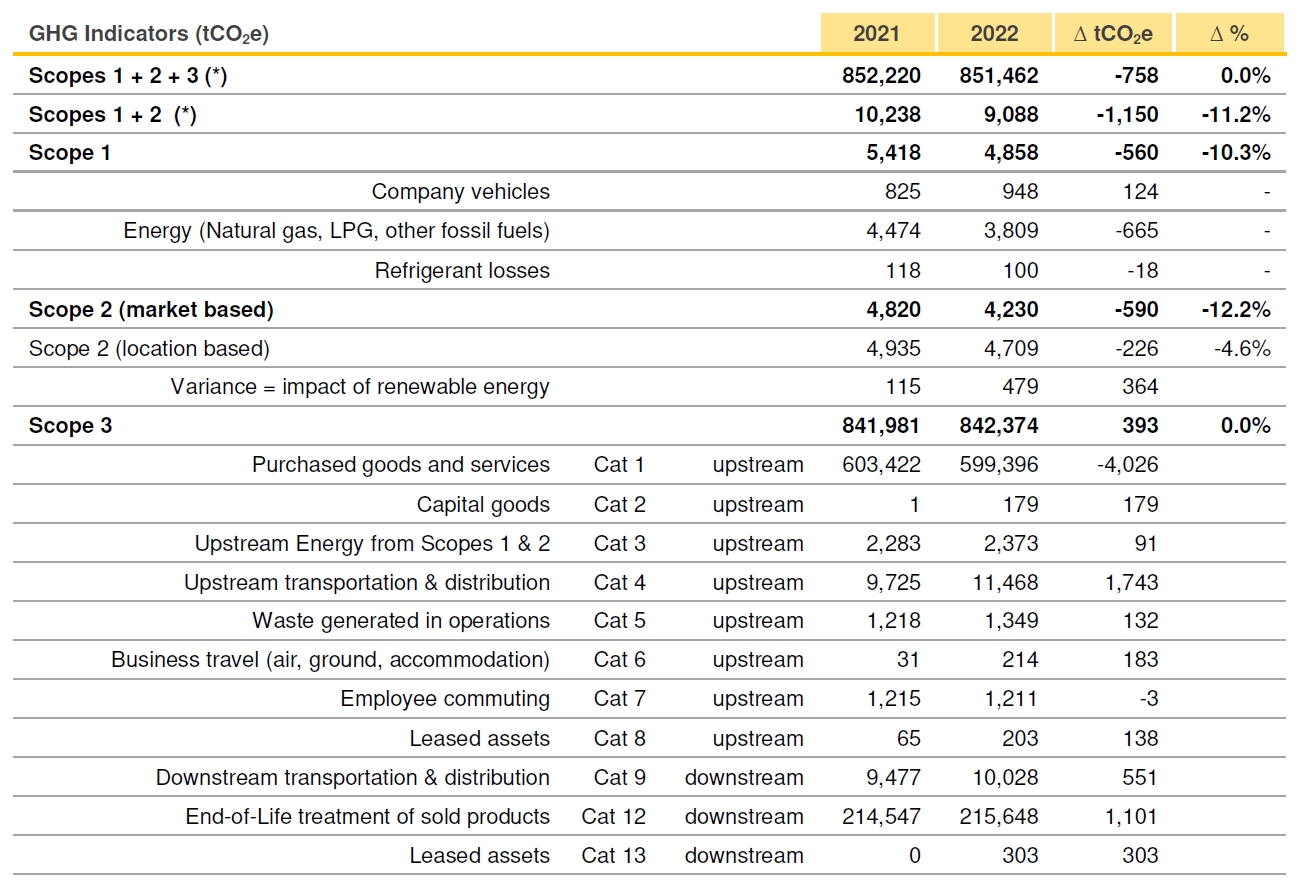 GHG emissions scope 1, 2, 3
Scope 1: 0.6% of company emissions 2022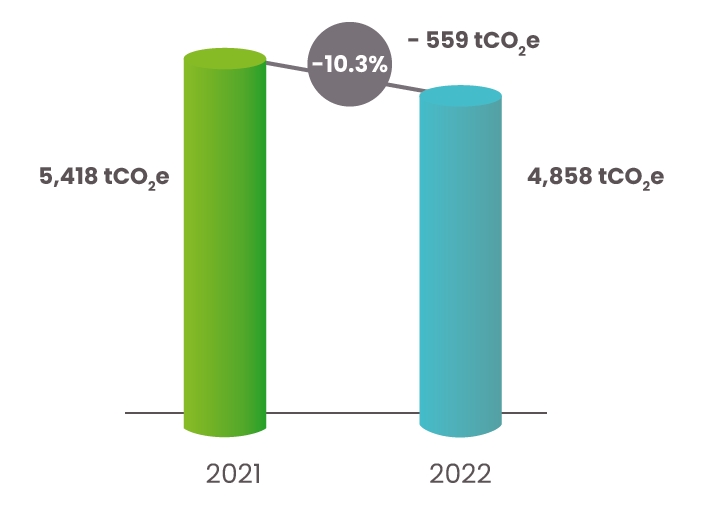 Scope 2: 0.5% of company emissions 2022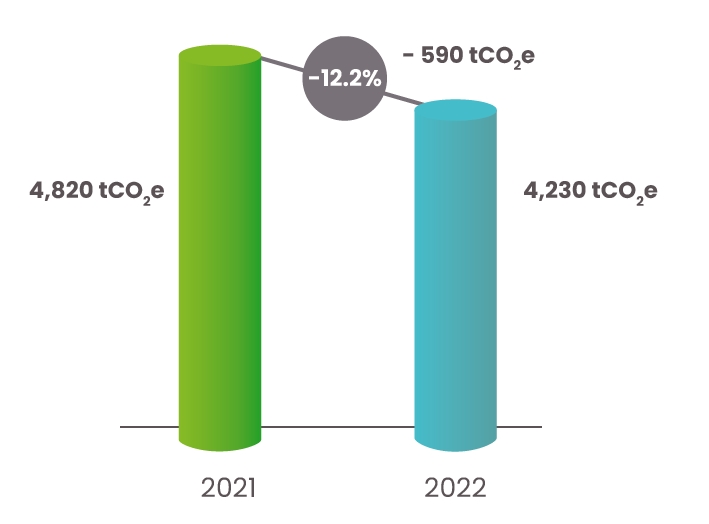 Scope 3: 98.9% of company emissions 2022

Our avoided emissions
Avoided emissions are emission reductions that occur outside of a product's life cycle or value chain, but as a result of the use of that product. However, there is no international standard or consistent terminology to describe avoided emissions. To estimate and report the comparative emission impacts of products, the World Resources Institute (WRI) issued in 2019 a comprehensive working paper and neutral framework which can be found on the GHG Protocol website.
Recticel has followed the recommendation and calculated its avoided emissions through the Attributional Life Cycle Assessment (LCA) approach. This is a widely used method for assessing the environmental impacts of a product or service throughout its entire life cycle, from extraction of raw materials to end-of life disposal. To allow a correct comparison with other companies reporting avoided emissions, it is essential to note that the full scope of our insulation activities has been considered as well as the totality of GHG emissions (Scopes 1+2+3) as recommended by the WRI, and not only the emissions related to our own operations.


For more details about the methodology applied, see Annual Report 2022, 4.1.5 Avoided emissions, page 73.
Our sustainability indicators – People & solutions plan*


*Recticel Insulation Boards + IHQ + offices. Trimo Insulated Panels and Soundcoat Acoustic Insulation will be included as of 2023.