Insulated Panels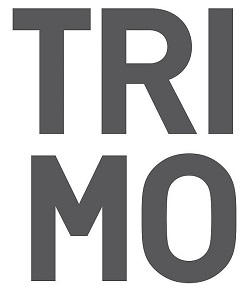 Our offering
Metal faced insulated panels are single, factory engineered components that are typically fixed directly to the structural frame to provide both insulation and weather protection. There is no cavity in this type of cladding construction.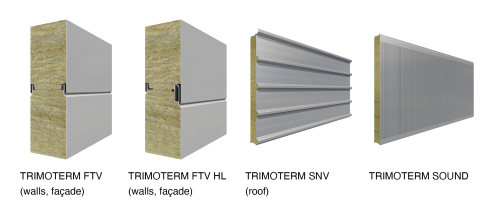 TRIMOTERM
A range of environmentally friendly façade, wall and roof panels, which are ideal for constructions where there are very high demands for fire resistance,
sound reduction and thermal insulation.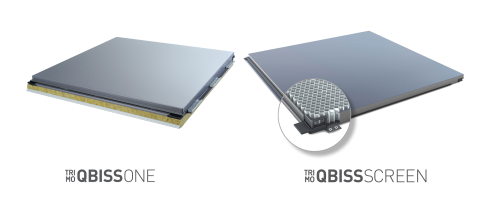 QBISS ONE & QBISS SCREEN
A design and technological breakthrough. A world class engineered, prefabricated architectural metal wall that offers a true alternative to conventional built-up systems.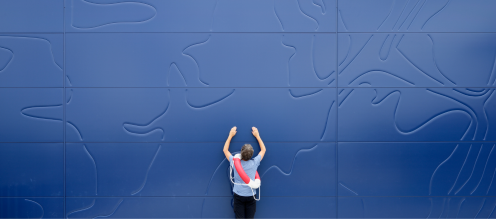 ARTME
Unique, high-tech façade surface treatment that allows literally unlimited shapes, patterns and visual effects to be inscribed on the façade envelope.
Addressable market
The market for insulated panels is split between PUR/PIR and mineral wool core products, accounting for 80% and 20% of the market share respectively.
The growth in insulated panels is driven by four megatrends, which are very successfully addressed by our products. These trends are:
Sustainability, as reducing environmental impact becomes a standard requirement;
Fire safety, as new legislation and greater developer awareness are implemented;
Energy efficiency, as thermal insulation and net zero buildings gain importance;
Prefabrication, to decrease the labour intensity of construction.
Our product portfolio is well-suited to meet the needs of the fast-growing segment, and our ability to adapt quickly to market behaviour has proven to be a strength for our company.
Value of our mineral wool insulated panels
The structural and physical properties of insulated panels allow great design freedom, while their advanced technical qualities provide a high-quality, total envelope solution. They are a particularly good match for pre-fabrication requirements, enabling regulatory compliance in a fast, cost-efficient and scalable manner.
Features:
Self-supporting (up to 10m single span)
Single factory-manufactured unit
Mineral wool insulation
Water & air tightness
Extreme thermal values
Moisture resistant
98% recyclable
Mineral wool insulated panels benefits