Sustainability & Innovation
Sustainability reports
On 26 February 2018, Recticel published its second sustainability report 'Sustainability through technological advances', available in English and Dutch.
This report is the product of a journey that began in 2012. The first step of this journey was to define our strategy for sustainability, which was embedded in the Group strategy in 2015 and published in our first sustainability report in 2016.
With this report, we aim to give external and internal stakeholders insight into our sustainability journey, strategy, and six material aspects. For each of these, we have selected a key performance indicator and target to measure progress. Limited external assurance was performed on the six material aspects covering the seven KPIs.
In September 2017, the EU Directive 2014/95/EU on non-financial and diversity information reporting was enacted into Belgian national law. We now not only cover corporate governance and risk management statements in our annual report (as required by the Belgian Company Code), but also report on environmental, social, human rights and anti-corruption and bribery topics in our sustainability report.
The Directive recommends using internationally-recognised frameworks and standards to prepare and publish our responses. Hence, our second sustainability report was drawn up in accordance with the Global Reporting Initiative (GRI) Standard guidelines. This comprehensive framework is known globally for its credibility, consistency and comparability, and is now the de facto standard for sustainability reporting.
Recticel will publish its third sustainability report in 2020.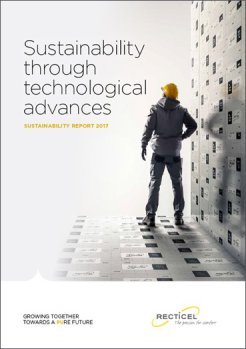 Download our 2018
sustainability report


All our reports