Sustainability & Innovation
Sustainability reports
The first Recticel sustainability report published in September 2016, results from a journey that began in 2012. Its goal was to define our strategy for sustainability, which subsequently became embedded in the Group Strategy in 2015. Our aim is to give external and internal stakeholders a clear insight into our sustainability journey, our strategy and our six most important aspects.
Our first sustainability report was drawn up in accordance with the Global Reporting Initiative (GRI) G4 guidelines – core level. This comprehensive framework is widely used around the world for its credibility, consistency and comparability and now a de facto standard for sustainability reporting. The report focuses on 100% owned subsidiaries and does not include joint ventures.
Recticel will publish a second sustainability report in the first quarter of 2018 in accordance with the Global Reporting Initiatives (GRI) standards.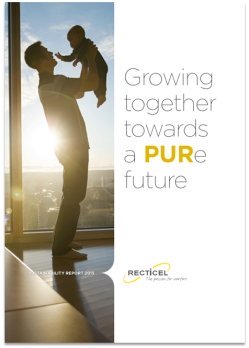 Download
our sustainability report
A 'remarkable' report
For many years, the Institute of Registered Auditors (IBR-IRE) has taken an active role in sustainability reporting and corporate social responsibility (CSR). In particular, IBR-IRE organises the Awards for Best Belgian Sustainability Reports.
During the 2015 Award ceremony for the Best Belgian Sustainability Reports, the jury praised Recticel's first publication as a 'Remarkable Report'. The jury explained its decision as follows: "Recticel, for its dynamic and easy to read report, with a well described context, including SDGs, and properly illustrated content. This report is also honest on positive and negative issues/facts". The jury also appreciated the strong stakeholder engagement (notably via interviews) and Recticel's good corporate governance and ethics.