Sustainability & Innovation
Our ESG ratings – transparency on our sustainability performance
Environmental, social and governance (ESG) standards help us to understand how a company operates in regard to the planet and its people.
Environmental criteria determine how the company performs as a steward of the planet. Social criteria define how it manages relationships with employees, suppliers, customers, and the communities where it operates. Governance criteria are a set of rules, best practices and processes that determine how the organisation is managed and controlled.
For many years, Recticel has been committed to strong performance on both financial and non-financial criteria. Transparency on objectives and performance is key to earning and retaining the trust and support of stakeholders interested in companies with solid environmental, social and governance (ESG) commitments and scores.
Our ambition is to be a leader in our industry for climate change action and an equitable society. ESG ratings measure our performance, providing transparency and clarity to our stakeholders as well as identifying the areas where we can continue to improve.
CDP
CDP is a a global non-profit that runs the world's leading environmental disclosure platform. The organisation drives companies and governments to reduce their greenhouse gas emissions, safeguard water resources and protect forests. More than 13,000 companies with over 64% of global market capitalisation disclosed environmental data through CDP in 2021.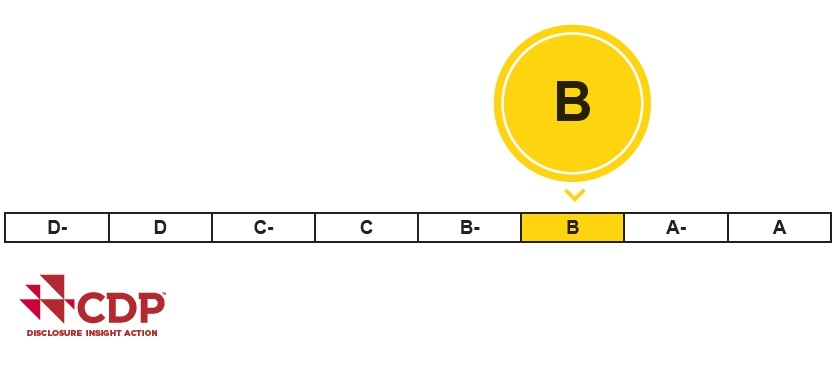 CDP awarded Recticel a B (on a scale from A to D-) for climate change disclosure on its first participation, in 2021. This positions us among the 33% of companies worldwide that have a B score or higher.
CDP particularly recognises the fact that Recticel is leading within its industry on:
Emission reduction initiatives
Governance
Our full disclosure is available on the CDP website.
MSCI
The MSCI ESG rating provides institutional investors with a more robust ESG integration tool designed to support ESG risk mitigation and long term value creation. MSCI ESG Ratings uses a rules-based methodology designed to measure a company's resilience to long-term, industry material environmental, social and governance (ESG) risks.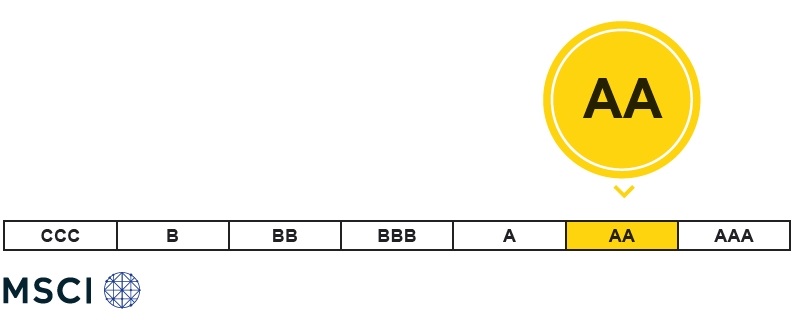 MSCI upgraded our rating from 'A' to 'AA' (on a scale from AAA to CCC), ranking us in the top 6% of the MSCI Commodities Chemicals universe (September 2021).
In its assessment, MSCI particularly highlights:
Our robust carbon mitigation plan with an aggressive target to carbon footprint reduction
Recticel's fully independent formal policy on bribery and corruption overseen at executive level.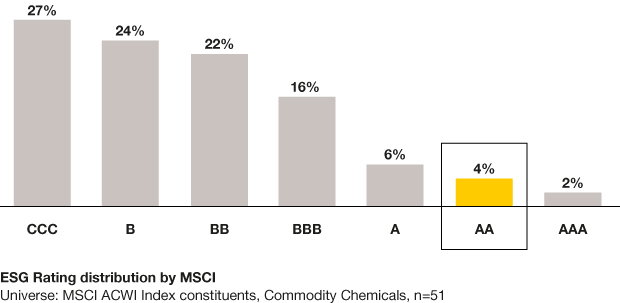 SUSTAINALYTICS
Sustainalytics' ESG Risk Ratings measure a company's exposure to industry-specific material ESG risks and how well a company is managing those risks. This multi-dimensional way of measuring ESG risk combines the concepts of management and exposure to arrive at an absolute assessment of ESG risk. Sustainalytics identifies five categories of ESG risk severity that could impact a company's enterprise value.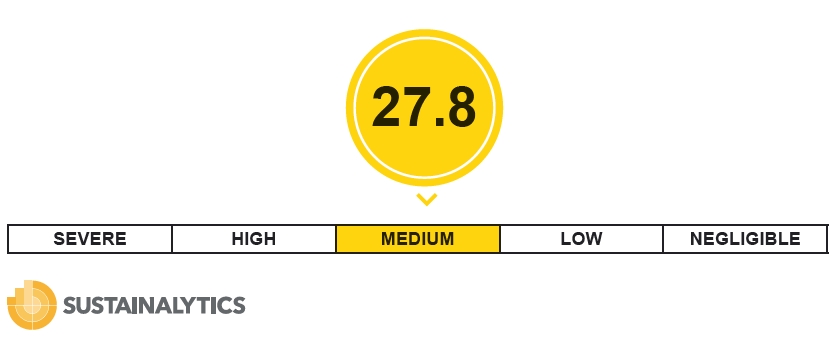 Based on a limited Core Framework analysis, Sustainalytics ranked Recticel as 'Medium' within the Commodity Chemicals universe (19 October 2021). More information about our score is available on the Sustainalytics website.
ECOVADIS
EcoVadis is one of the world's largest provider of business sustainability ratings, with more than 90,000+ rated companies. Their assessment covers how well a company has integrated sustainability in its business and management system with regard to environment, labour & human rights, ethics and sustainable procurement.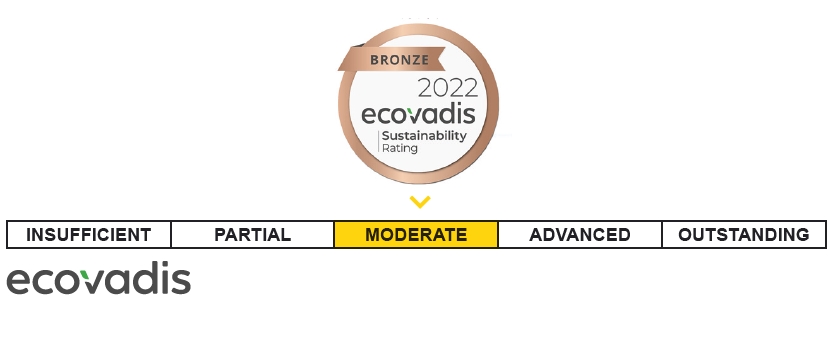 On 6 January 2022, we received a bronze medal from EcoVadis for our sustainability efforts in the 'Manufacture of plastic products' category. This ranks Recticel in the top 50% of companies rated by EcoVadis.
MOODYS
Moody's ESG Solutions (previously known as Vigeo Eiris) is a business unit of Moody's Corporation that serves the global demand for ESG and climate insight. Their assessment across Environment, Social and Governance covers how well a company has integrated sustainability and climate change in its business and management system.


In October 2021, Moody's ESG Solutions awarded Recticel for its sustainability efforts with an ESG overall score of 45/100 'Limited' in the 'Chemicals' sector. Compared to 2020, we improved on all three ESG aspects, in particular on 'Social', resulting in a 12.5% increase.
This result ranks us in the top 60 % of companies rated by Moody's. More information can be found on Moody's ESG / Solutions.
S&P GLOBAL
S&P Global provides essential intelligence to governments, businesses and individuals so that they can make decisions with conviction. Its portfolio includes comprehensive company-level ESG metrics, vital data, market benchmarks, analytical tools, and standards to help customers create resilient strategies to maximize financial performance, build a sustainable future, and meet the expectations of an evolving market.



Recticel was invited for the first time, in 2021, to actively participate in S&P Global's Corporate Sustainability Assessment (CSA) as a company of interest to the broader investment community.
On 18 March 2022, Recticel performed in the 50 percentile of the S&P Global CSA 'CHM Chemical' industry with a score of 25/100.
More details about S&P Global's CSA are available on the S&P Global website