Embracing a new future

The transformation of Recticel
Recticel has always been a Group embracing change and evolving in ways that add value for our stakeholders and for wider society. The transformation that began in 2010 – involving restructuring of our business activities and rationalisation of our manufacturing footprint – resulted in significant performance improvement. As soon as we had achieved that landmark, we embarked on a programme of reshaping and investing to boost the business, optimise our portfolio and streamline our organisation.



In 2020, despite the disruption caused by the global COVID-19 pandemic, Recticel was perfectly positioned for further strategic transformation. We divested our Automotive Interiors business line and our Eurofoam joint venture. In 2021, we acquired FoamPartner and formed the new Recticel Engineered Foams division. We began the process of divesting our Bedding business line, entering into a binding agreement with Aquinos Group in November.
In December 2021, we signed an agreement with Carpenter Co. for the divestment of the recently formed Recticel Engineered Foams division. The deal enables us to pursue our insulation business and ESG objectives while safeguarding the potential of the Engineered Foams division and its highly skilled employees, as well as the interests of all our stakeholders.
March 2022 saw the closing of the Bedding business line divestment to Aquinos Group, as well as a pivotal development in the execution of our new strategy: the acquisition of Trimo d.o.o., one of Europe's leading providers of sustainable premium insulated panels for the construction industry, with operations in Slovenia and Serbia, which was closed in April 2022.
Recticel is now confidently beginning a new chapter in its history, with a strategy founded on sustainable innovation. In 2022, we will move forward as a pure play insulation company, a specialised business with a wealth of experience and a set of further refined objectives.
Our profile
Facts & Figures

Status at 31.12.2021.
Continuing operations: Insulation & Engineered Foams. The Bedding sale is accounted for in discontinued operations as per IFRS 5 in the 2021 financial reporting.
Recticel around the world

| | | | |
| --- | --- | --- | --- |
| Key data | Europe | Asia | United States |
| % of consolidated net sales | 88% | 6% | 6% |
| Number of employees | 3,082 | 283 | 191 |
| Number of sites | 30 | 8 | 5 |
Our divisions
Our core portfolio is organised around two application areas: Insulation and Engineered Foams.
Our Insulation division offers a distinguished portfolio of thermal and acoustic insulation products used in construction and renovation projects. These products are marketed under well-known brands and product names such as Eurowall®, Powerroof®, Powerdeck®, Powerwall® and Xentro®. Recticel's PIR insulation is the preferred option for residential building insulation, offering substantially better performance than common alternatives.
Following the announced divestments of the Bedding and Engineered Foams divisions, leading up to Recticel's new path as a pure player in insulation, we announced on 22 March 2022 the acquisition of Trimo d.o.o.. As a pure play mineral wool insulated panel manufacturer, Trimo d.o.o. focuses on mid to high-end applications of roof and wall cladding in the non-residential market. The acquisition was closed on 29 April 2022.
Our Engineered Foams division develops and produces a wide variety of solutions with product attributes such as silencing, sealing, filtering, carrying, protecting, supporting and comforting. These solutions, predominantly based on flexible polyurethane foam products, are found in various B2B markets and segments.
To defend against an unsolicited offer, a Special Shareholders Meeting on 6 December 2021 approved the sale of the Engineered Foams business line to the US company Carpenter Co.. This transaction is expected to be closed around mid-2022.
Key figures
The Bedding activities – which were effectively sold on 30 March 2022 - are for 2021 reported as discontinued activities. Likewise Automotive Interiors is - as from 2020 - integrated in the consolidated accounts according to the 'equity method'. On 30 June 2020 Recticel also fully divested its 50% participation in the Eurofoam joint venture (Flexible Foams). Except for 2020 - which has been restated for the disposal of Bedding -, the historical figures below have not been restated to these changes in scope; hence are shown 'as published' during the previous periods.
All graphs below refer to the situation on 31 December 2021.
Consolidated Net Sales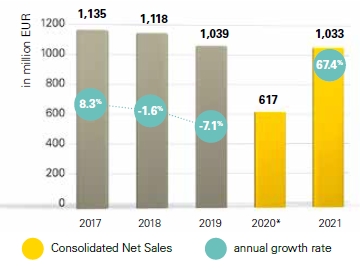 Combined Adjusted EBITDA (2017-2019) &
Consolidated Adjusted EBITDA (2020 & 2021)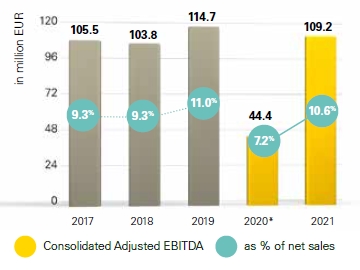 Earnings After Taxes
Gross Dividend per Share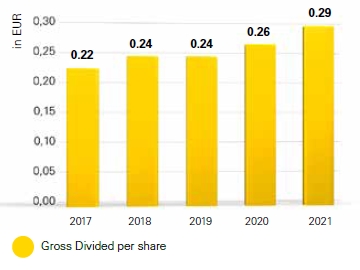 Total Equity versus Net Financial Debt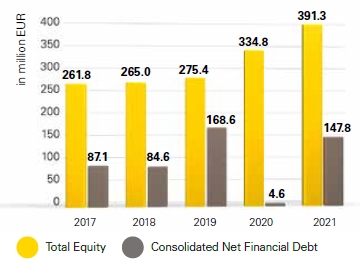 Gearing and Leverage Ratio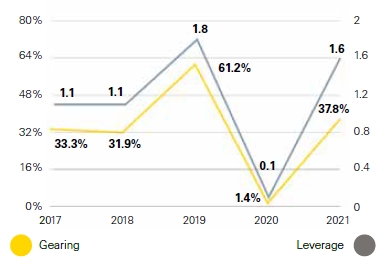 * In 2021, the Bedding business line has been accounted for as discontinued operation (IFRS 5). The 2020 figures have been restated accordingly.
Previous years have not been restated and are shown as published (grey colour).