Sustainability & Innovation
Sustainability strategy, targets and results

Strategy
Since 2013, sustainable innovation is a key driver at the heart of our Group strategy. Sustainability shapes our portfolio strategy and our innovation priorities, and as a result, it nourishes our long-term competitiveness. The long-term needs and challenges or our sectors and our society are our compass.
Growing together towards a PUre future expresses our firm commitment to reducing any negative effects of our activities and to optimising Recticel's positive impact throughout the value chain. We focus our R&D efforts on finding innovative solutions to the major challenges in society today, such as global warming, a growing and ageing population and conservation of natural resources.
Sustainability has always been at the heart of our activities. Our thermal Insulation solutions for building renovations and new construction make a significant contribution to a low-carbon society. We estimate that in 2019, the CO2 emissions avoided by our insulation solutions offset over 40 times our carbon impact throughout the value chain.
Sustainability is also an important element in the automotive industry, where customer demand for reduced carbon emissions pushed our innovation processes to develop lightweight materials. Similarly, in our Flexible Foams business line, innovative lightweight solutions have been developed for speciality applications in car engine compartments which require superior silencing properties.

In other markets, the traditional focus has been on durability and on providing optimal comfort during the use phase. In recent years, we have directed our research efforts to eco-design and repurposing our valuable polyurethane materials after their usage phase. Mechanical and chemical recycling are the two routes we follow towards circularity.
Recticel supports the United Nations Sustainable Development Goals and especially those where Recticel expertise and activities are most relevant, such as: 'Good Health and Well-being', 'Climate Action', 'Responsible Consumption and Production', 'Decent Work And Economic Growth' and 'Partnerships for the Goals'.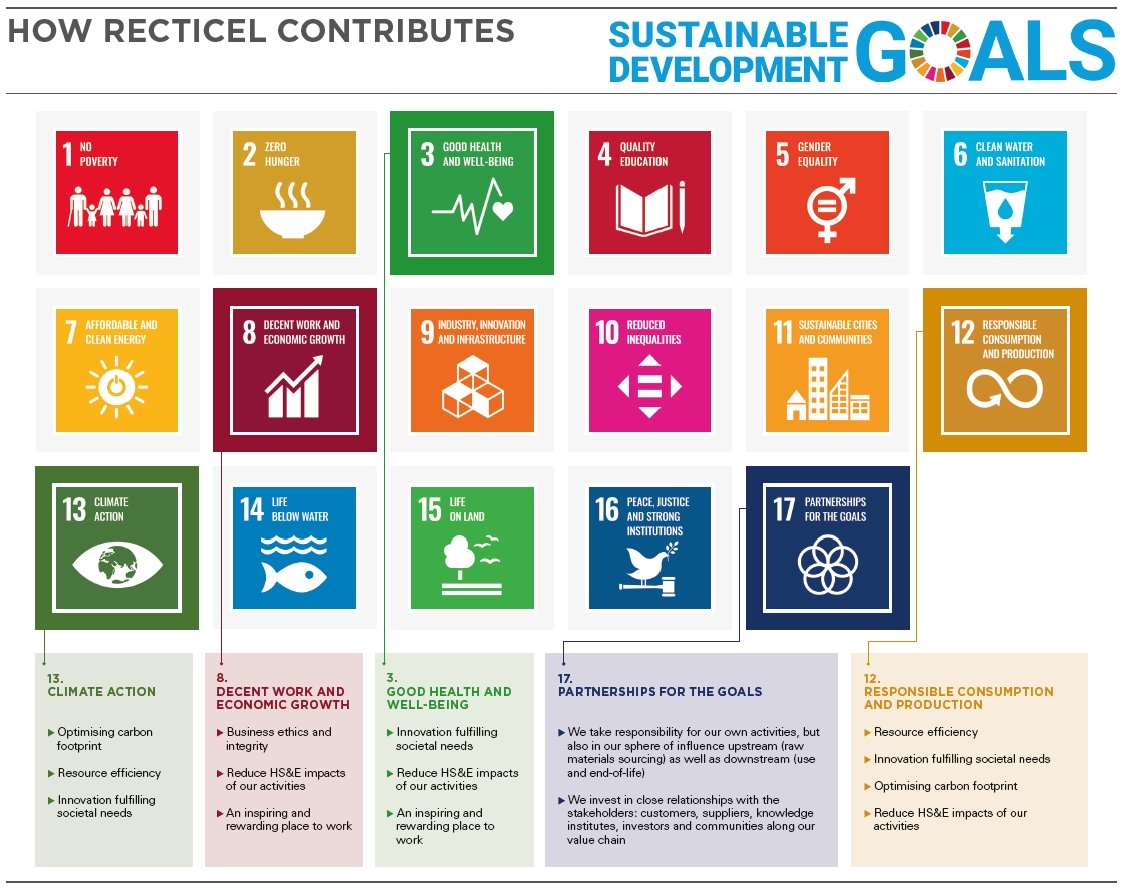 Click on the image to enlarge
Readying polyurethane for the circular economy
Our products are predominantly, though not exclusively, based on polyurethane (PU). This versatile material allows us to develop long-lasting high-quality and durable solutions that promote comfort in our daily life such as insulation panels or mattresses. Preparing them for the transition to a circular economy is an important challenge.
Our strategic Corporate Sustainability Innovation Programme, led by our Sustainable Innovation Department, the R&D Center of the Group, focuses on discovering new ways of making polyurethane more sustainable in every phase from raw materials, to production, to end-of-life.



We are proud to participate in and be the project leader of the PUReSmart project funded by the European Union's Horizon 2020 Innovation and Research programme to develop a complete circular product life cycle and turn polyurethane into a truly sustainable material.
New mechanical and chemical recycling processes will allow us to reuse materials for more advanced value-added applications.
Reduced usage of raw materials is complemented by the use of more sustainable raw materials. In partnership with Covestro, formerly Bayer MaterialScience, Recticel is the first company worldwide to use a CO2 based polyol in our flexible foam production process for products such as mattresses. This helps to conserve natural resources and combat climate change.
Such societal sustainability challenges will continue to drive our future innovations.


Targets and results
Innovation and people are key in achieving our sustainability strategy. As a result of a stakeholders' consultation process, we defined the six most important material aspects for Recticel and clustered them in a Sustainable Innovation Plan and a People Priority Plan. We subsequently selected a key performance indicator and target for each material aspect.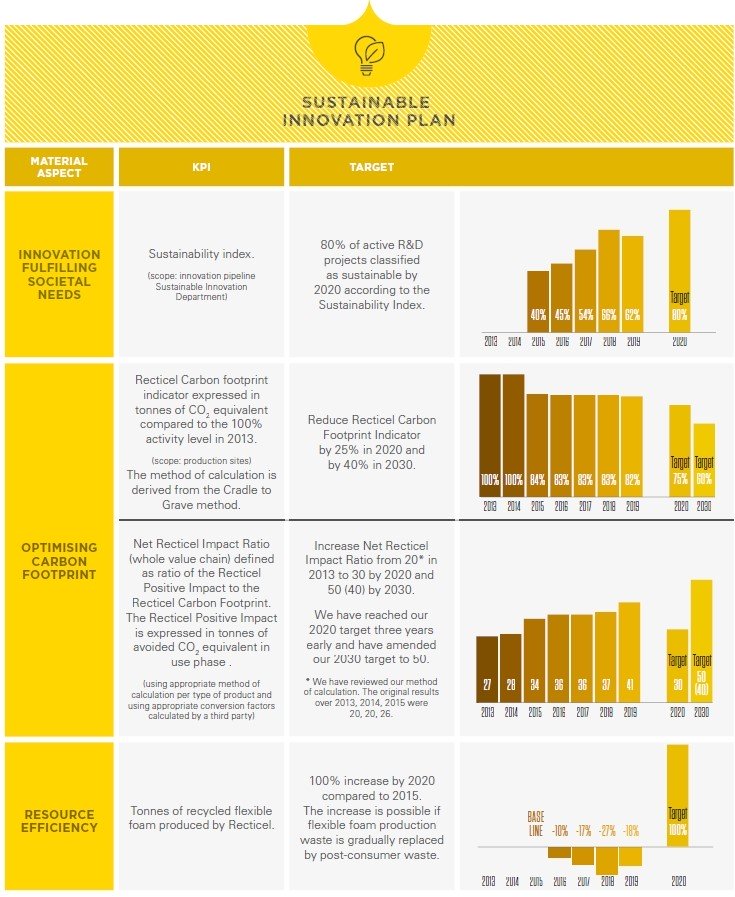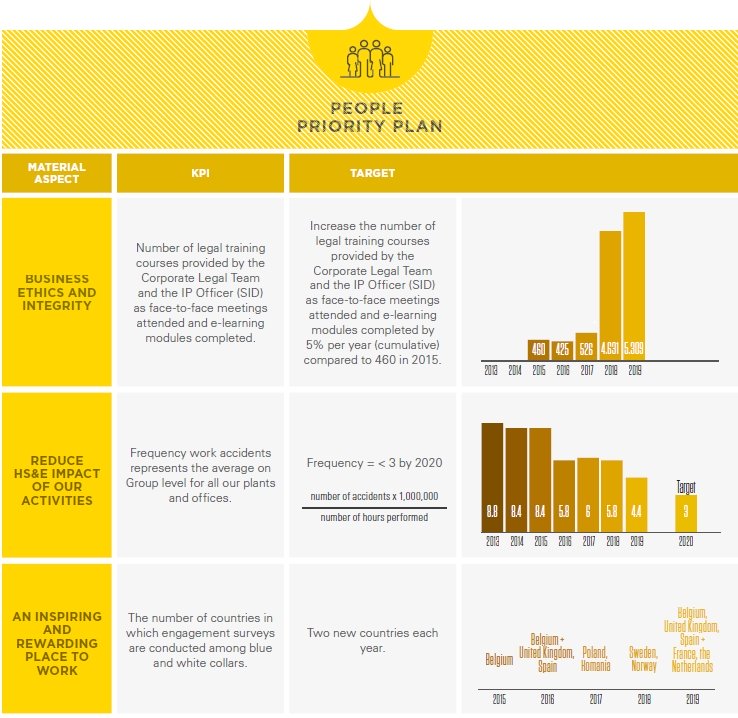 Click on the images to enlarge