Sustainability & Innovation
Sustainability strategy, targets and results

Strategy
Since 2013, sustainable innovation is a key driver at the heart of our Group strategy. Sustainability shapes our portfolio strategy and our innovation priorities, and as a result, it nourishes our long-term competitiveness. The long-term needs and challenges for our sectors and our society such as climate change mitigation are our compass.
Growing together towards a PUre future expresses our firm commitment to reducing any negative effects of our activities and to optimising Recticel's positive impact throughout the value chain. We focus our R&D efforts on finding innovative solutions to the major challenges in society today, such as global warming, a growing and ageing population and conservation of natural resources.
Sustainability has always been at the heart of our activities. Our thermal Insulation solutions for building renovations and new construction make a significant contribution to a low-carbon society. We estimate that in 2021, the CO2 emissions avoided by our insulation solutions offset over 51 times our carbon impact throughout the entire value chain.
Renewed sustainability strategy and roadmap 2025
In 2020, Recticel revised of the two pillars of its 2015 – 2020 sustainability strategy. After internal and external stakeholder consultation, we redefined the six material aspects or priorities, their KPIs and targets for 2025 or 2030. The renewed strategy will maximise our positive climate impact, boost circular efficiencies and help to protect and engage our employees and external stakeholders.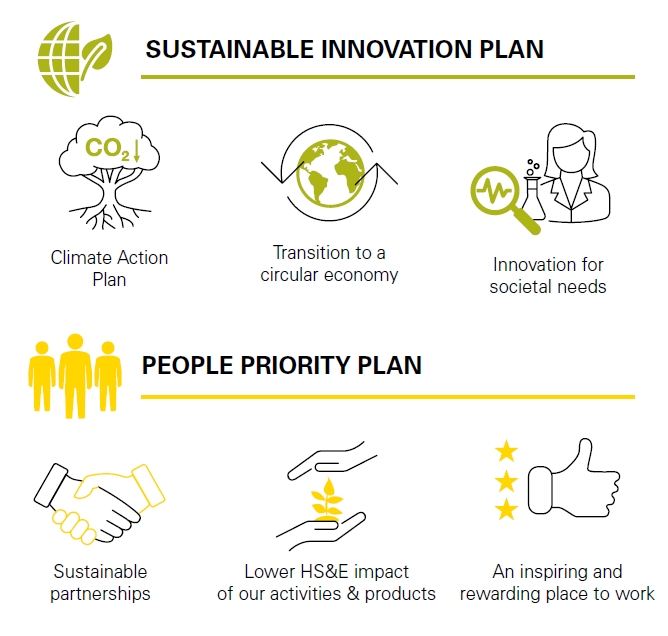 Our guiding goals
The United Nations Sustainable Development Goals (SDGs) set in 2015 are universal targets and indicators designed to help countries and end poverty, protect the planet and ensure global prosperity as part of a sustainable development agenda.
Recticel identified the six SDGs that are most impactful, relevant and embedded in our company's Sustainability Strategy: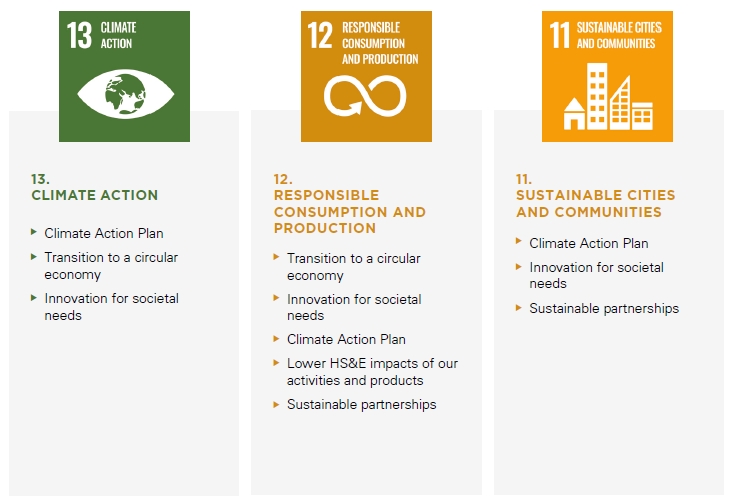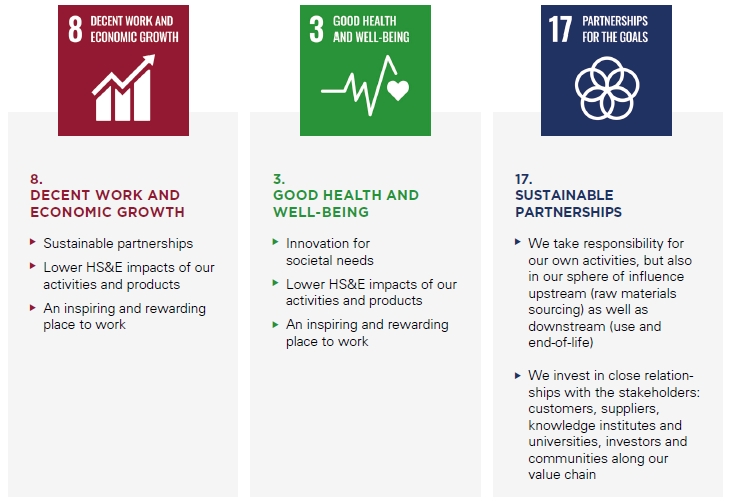 European Green Deal
The European Green Deal is a set of proposals adopted by the European Commission in 2019 with the overarching aim of making the European Union the first climate neutral continent by 2050. This green transition will fundamentally transform the business environment and the economy in Europe. It is seen as a major opportunity for European industry, creating markets for clean technologies in many sectors, including construction and renovation, with the potential to renovate 35 million buildings by 2030. The aim of building renovation is to save energy, protect against extremes of heat and cold and tackle energy poverty. Effective thermal insulation is essential to meet these goals.
Readying polyurethane for the circular economy
Our products are predominantly, though not exclusively, based on polyurethane (PU). This versatile material allows us to develop long-lasting high-quality and durable solutions that promote comfort in our daily life such as insulation panels or mattresses. Preparing them for the transition to a circular economy is an important challenge. We focus our R&D efforts on new ways of making polyurethane more sustainable in every phase of the value chain, from raw materials, to production, to end-of-life.
Our strategic Corporate Sustainability Innovation Programme, led by our Sustainable Innovation Department, the R&D Center of the Group, focuses on discovering new ways of making polyurethane more sustainable in every phase from raw materials, to production, to end-of-life.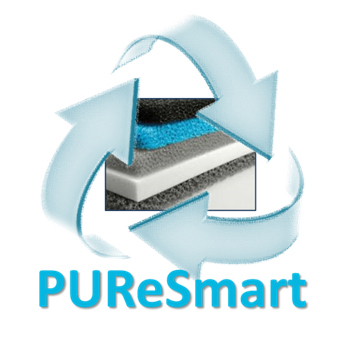 We are proud to participate in and be the project leader of the PUReSmart project funded by the European Union's Horizon 2020 Innovation and Research programme to develop a complete circular product life cycle and turn polyurethane into a truly sustainable material.
New mechanical and chemical recycling processes will allow us to reuse materials for more advanced value-added applications.
We have now extended our R&D recyclability focus to insulation boards, which keep their energy-saving properties for up to 50 years. A first study on how to collect and re-use post-consumer rigid polyurethane foam has been completed. We intend to set up a research project with partners across the value chain to further explore all options.
Results 2021
For more details about our progress made in 2021, see the Non-Financial Information Statement in our 2021 Annual Report, page 78 – 102.