Sustainability & Innovation
Health, Safety & Environment
Ensuring safe working conditions and minimising negative impact on the planet are the foundations of every sustainable company. Due to the nature of its activities, the Recticel Group is exposed to environmental risks. The Group uses potentially hazardous products (e.g. chemicals) as part of its development activities and manufacturing processes. Scenarios precisely outlining the modus operandi for handling related crises and their consequences have been circulated throughout the organization.
True to our values, we never comprise on safety. We continuously strive to bring each plant up to best-in-class level by reducing work-related incidents, emissions, production leaks, fires and near misses.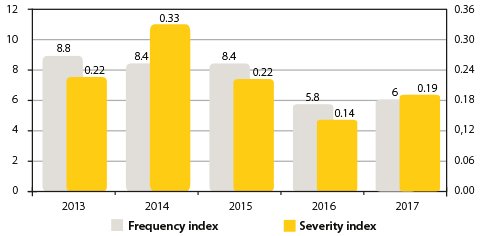 Frequency index - Severity index Industrial accidents

The Recticel Corporate HS&E Policy defines strategic objectives to minimise risks for people and the planet. Processing chemicals, product cutting and conversion and warehousing and handling activities are at the heart of our operations. Through methodical risk assessments and mitigation as well as process improvements, we aim to make Recticel a safe place to work and visit.
Several Recticel plants have already implemented Health & Safety and/or Environmental Management Systems (OHSAS 18001 and/or ISO 14001 certified). We have built a powerful network of skilled professionals to support HS&E requirements across the organisation in each country and location and to instil a safety culture throughout the organisation.
HS&E professionals equally support our ambition to reduce our environmental impact by monitoring energy consumption and waste, mapping risks and defining and implementing corrective and preventive measures.
Recticel is an active member of European and national professional associations such as EUROPUR, PU Europe, Essenscia and Federplast and is committed to advancing Responsible Care. We seek to continuously improve our Environmental, Health and Safety knowledge and the performance of our technologies, processes and products over their lifecycles.


Rewarding HS&E forerunners
Embedding a HS&E culture throughout the entire Group requires constant attention. One of our most recent initiatives is the HS&E Best Safety Performance Award, which shines a spotlight on the best performing business line and plant, as well as the plant that has made the most progress. In this way, we celebrate success and acknowledge everyone involved.
In 2017, the winners were:
Recticel Stoke-on-Trent, United Kingdom (Insulation), Lowest Accident Frequency Rate Award; this award values the plant with the lowest accident rate in 2017. Since 19 plants encountered no accidents during this reference period, the number of hours worked and the increasing business activity was taken into account.
Recticel Ibérica s.l. Ciudad Rodrigo, Spain (Flexible Foams), Best Frequency Rate Improvement Award; this award acknowledges the plant that has advanced the most in terms of reducing accident frequency. The Ciudad Rodrigo plant has reduced its frequency rate drastically to zero from 2016 to 2017.
Recticel Automotive Interiors Division, Lowest Frequency Rate Award; this award is for the third time for the Interiors division, since they achieved the lowest accident rate in the period 2017, averaging 2.83.