Recticel receives its third FIRA Gold Certificate
We are proud to announce that Recticel has received its third FIRA Gold Certificate. The certificate was received by the Flexible Foams business line for its Foamflex™ Reversible Foam. It follows two existing FIRA Gold Certifications for Foamflex™ Cushion Foam / Foamflex™ Cushion Slim and Aurora Seating.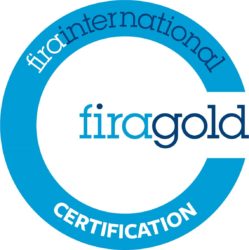 A mark of the highest quality standards
FIRA Gold is the recognised quality mark for furniture products and installation services and is backed by rigorous testing from FIRA International's UKAS accredited laboratory. To earn FIRA Gold Certification, the product or installation service must be assessed against specified performance levels. A thorough factory visit is also conducted. Holders are then reassessed through future testing and inspections to ensure standards remain high.

Foamflex™ Reversible Foam achieved FIRA Gold after a vigorous testing regime using BS EN ISO 3385:2014 - Flexible cellular polymeric materials - Determination of fatigue by constant-load pounding. The foam was subjected to constant load pounding test over 80,000 cycles of 750 newtons. It was then measured for any loss of hardness and thickness against the original sample. The results demonstrated that the foam is classified as 'severe' rating, making the range suitable for all domestic use, private and commercial vehicle seats and cinema armrests.
In addition, Foamflex™ Reversible Foam passed Schedule 1 Part 1 testing under the Furniture and Furnishings (Fire) (Safety) Regulations 1988.

Recticel also underwent a factory audit conducted by FIRA International to ensure that all processes and procedures involved in the manufacture of Foamflex™ Cushion Foam were compliant. Following this, the auditor commented that Recticel has a good quality assurance system in operation across the manufacturing site which supports every stage of its production process.
What is Foamflex™ Reversible Foam?
Foamflex™ Reversible Foam is a new multi-use seating foam cushion which gives maximum comfort again and again, while retaining its shape and feel throughout its lifetime. The Foamflex™ series uses two different types of foam with a unique profile design that allows extra comfort and sustainable support while sitting.
To find out more about Foamflex™ Reversible Foam or request a sample, contact flexiblefoams@recticel.com.
For further information on FIRA Gold Certification, visit www.fira.co.uk/gold