Recticel expands its Insulation activities with the acquisition of the thermal insulation board business of Gór-Stal
Recticel announces that it has entered into preliminary agreements with the owners of the private Polish company Gór-Stal Sp. z o.o. ("Gór-Stal") to acquire Gór-Stal's thermal polyisocyanurate-based (PIR) insulation board business.

The acquisition will be made in cash for an enterprise value of EUR 30 million, of which EUR 27.25 million will be payable at closing and EUR 2.75 million payable in two equal tranches in 2022 and 2023. The transaction is subject to confirmatory due diligence and customary conditions precedent.

In 2015, Gór-Stal started its PIR insulation board business and built a new plant in Bochnia, focused on the production of high-value-added termPIR® thermal insulation boards for the construction sector. In 2020, the Bochnia plant employed 66 people and generated EUR 16.7 million net sales and EUR 2.5 million normalized EBITDA at a capacity utilization rate of about 40%.
The acquisition of the Gór-Stal insulation board business will lead to accelerated expansion into the Central and Eastern European markets, where Recticel was so far not present.

Closing of the transaction is expected to be completed by July 2021.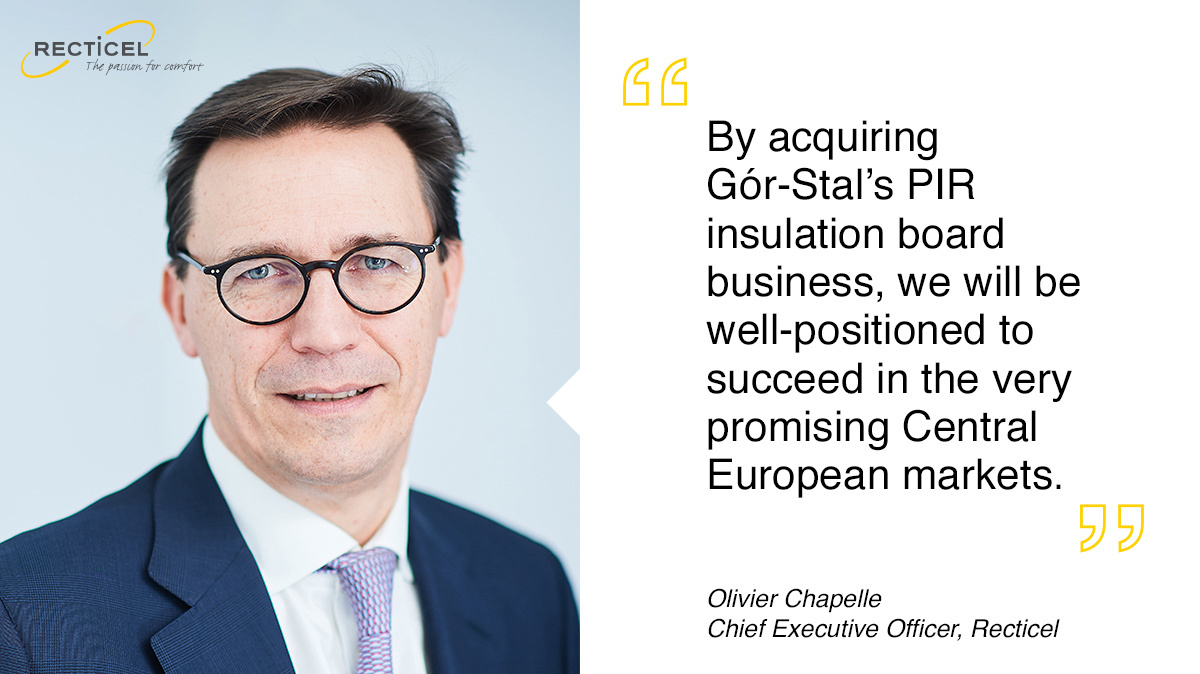 Olivier Chapelle (CEO) : "The acquisition of the Gór-Stal PIR-based insulation board activities marks an important step in the development of our Insulation business. This acquisition perfectly fits our ambition to further expand in the growing thermal insulation markets of Central and Eastern Europe. It meets three fundamental prerequisites: a state-of-the-art asset, a perfect geographical complementarity, and a focus on high performance PIR insulation solutions. We look forward to welcoming our new and highly skilled colleagues from Gór-Stal."