Not just a buzzword: a Sustainability Report with a difference
On 26 February 2018, we published our second sustainability report: Sustainability through Technological Advances. Sustainability is a key differentiator for Recticel in that it underpins everything we do. It has been embedded in our Group Strategy since 2015 and our approach was laid out in our first sustainability report in 2016. Two years later, our efforts have been rewarded with clear evidence that the approach and priorities defined then have delivered tangible progress for us, our stakeholders and our planet. Naturally, we are eager to share these results, as well as their implications for the coming years.
"We cannot risk becoming obsolete because we missed the turn. The circular economy is a real challenge, and we are dedicated to closing the loop."
Olivier Chapelle, CEO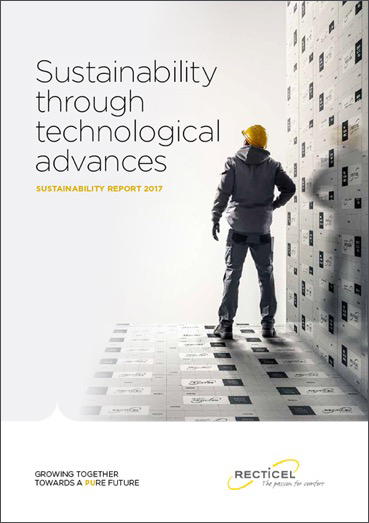 Click on the image to download the report
People and Innovation
The 2017 Sustainability Report revisits the two key pillars of our sustainability strategy: the Sustainable Innovation Plan and the People Priority Plan. We are now able to share new insights into these plans, including news of exciting new products and solutions that have grown out of focused sustainable innovation programmes. We have also worked closely with our stakeholders to select the six aspects with the highest potential to turn sustainability into a keener competitive edge. For each of these, we have defined a key performance indicator and targets to measure progress.
"We concentrate on the sustainable development goals that are most relevant to our expertise and activities. Doing so allows us to add more value where we have the biggest impact, rather than diffusing our attention."
Johnny Thijs, Chairman of the Board of Directors
Values in action
In December 2016, we introduced a set of core values that now shape our corporate culture. We have faced significant challenges since then, including a force majeure fire at one of our Automotive plants, increases in raw material prices, and supply chain incidents at our suppliers' premises. The successful application of our core values was immediately reflected in our response in times of crisis. The report illustrates how the values are providing a sustainable framework that enables us to face every situation with confidence.
"Sustainability isn't just a buzzword; it's strategically embedded."
François Desné, Group General Manager Flexible Foams
Meeting new directives
The new Sustainability Report discusses the social, environmental and economic aspects of sustainability in the 2016-2017 period. This includes practices relating to the recent integration into Belgian national law of EU Directive 2014/95/EU on non-financial and diversity information reporting. We have drawn up the report in accordance with Global Reporting Initiative (GRI) Standard guidelines, which are now the de facto standard for sustainability reporting.
"Two years after launching our sustainabilitystrategy, it is clear that focusing on innovation was the right approach for Recticel. Stakeholder feedback confirms that we have selected relevant priorities in our Sustainable Innovation Plan."
Jean-Pierre De Kesel, Chief Sustainable Innovation Officer
Attracting fresh talent
Recticel's skilled and creative employees enable us to excel and achieve our sustainable growth ambitions. We can only succeed if we attract, motivate and retain a talented pool of workers. We seek to offer all our employees a stimulating and rewarding place to work. Our reputation has been enhanced by a proven track record in sustainability that drives profitable growth and provides a powerful incentive for the excellent people we have to stay with us.
"The sustainability strategy is now embedded in the highest levels of our company, and customers' innovation requests are increasingly sustainability-driven. This helps keep sustainability a live issue that employees truly engage with in their quests for success."
Jean-Pierre De Kesel, Chief Sustainable Innovation Officer
Connecting initiatives with results
The Recticel Group strategy was created to respond to key challenges, such as energy conservation, CO2 reduction, and an aging and increasing population. Our sustainability initiatives have helped to position us as the leading supplier of polyurethane and polymer-based solutions in our markets. The 2017 Sustainability Report provides tangible evidence of our commitment to reducing any negative effects of our activities, and to optimising Recticel's positive impact across the value chain.
We already look forward to providing further updates in our third sustainability report in 2020!
Read our sustainability reports here.
Would you like to be part of our sustainability journey? Find out about Working@Recticel