Sustainability & Innovation
Health, Safety & Environment

We never compromise on safety
As the COVID-19 pandemic continues, we are taking every precaution to protect our employees, customers, suppliers, shareholders and their families from its impact. A Covid Crisis Team presided by the CEO, comprising the Chief Human Resources Officer, the Corporate HS&E Manager and the HS&E Managers from the business lines, closely monitors the pandemic's evolution and adapts its Group Health & Safety guidelines accordingly.
Since the start of the COVID-pandemic in 2020, Recticel Crisis Response Teams have been activated in every country and are monitoring the situation closely to ensure that the correct actions are taken, in line with Group as well as local guidelines and local legislation.
As a responsible company, we are committed to remaining flexible and responsive to the situation as it evolves, so that we can serve our customers and help communities through the challenges ahead.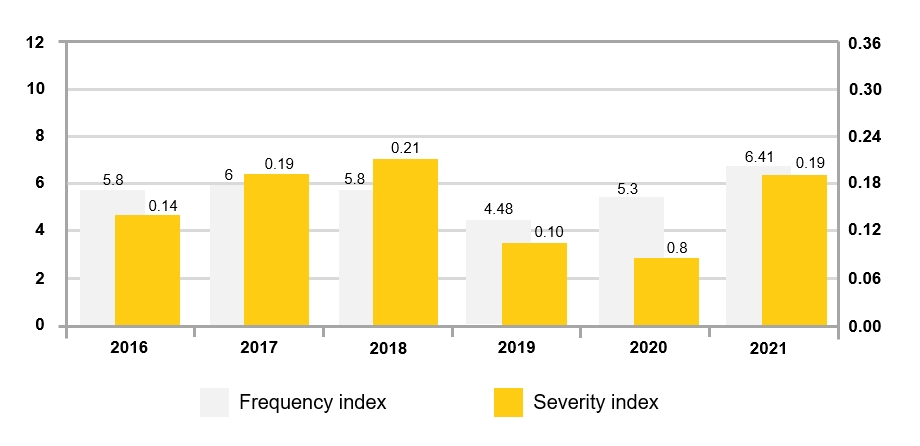 Frequency index - Severity index Industrial accidents

The Recticel Corporate HS&E Policy defines strategic objectives to minimise risks for people and the planet. Processing chemicals, product cutting and conversion and warehousing and handling activities are at the heart of our operations. Through methodical risk assessments and mitigation as well as process improvements, we aim to make Recticel a safe place to work and visit.
Several Recticel plants have already implemented Health & Safety and/or Environmental Management Systems (OHSAS 18001 and/or ISO 14001 certified). We have built a powerful network of skilled professionals to support HS&E requirements across the organisation in each country and location and to instill a safety culture throughout the organisation.
HS&E professionals equally support our ambition to reduce our environmental impact by monitoring energy consumption and waste, mapping risks and defining and implementing corrective and preventive measures.
Recticel is an active member of European and national professional associations such as EUROPUR, PU Europe, Essenscia and Federplast and is committed to advancing Responsible Care. We seek to continuously improve our Environmental, Health and Safety knowledge and the performance of our technologies, processes and products over their lifecycles.


Rewarding HS&E forerunners
Embedding a HS&E culture throughout the entire Group requires constant attention. One of our most recent initiatives is the HS&E Best Safety Performance Award, which shines a spotlight on the best performing business line and plant, as well as the plant that has made the most progress. In this way, we celebrate success and acknowledge everyone involved.
The winners of the 2020 Annual Safety Awards are:
Recticel Engineered Foams in Alfreton, UK
Plant with Lowest Accident Frequency Rate

Recticel Insulation in Wevelgem, Belgium
Plant with Highest Accident Frequency Rate Improvement

Recticel Insulation
Business Line with Highest Accident Frequency Rate Improvement
For more information, see also page 91 of our 2021 Annual Report 'Lower HS&E impact of our activities and products'.
We never compromise on safety!
We continue to raise awareness on safety. It is embedded in our Core Value of acting with respect and integrity. Through our global Simply Safe initiative, we introduced a clear framework of Golden Safety Principles and Golden Safety Rules. Our 'Stop! Think! Act!' mantra reminds everyone that we should all try to change our habits to guarantee a safe working environment. Whenever we notice a hazard, or whenever we start a new task, we should stop, think and then act.
Since 2018, we have been holding an annual Recticel Global Safety Day. It relays the important message that safety is everyone's responsibility. In 2021, during the COVID-19 pandemic, we organised a Safety Day at every Recticel site to kick off a fresh new safety campaign. Under the overall theme 'It's MY choice', the campaign drives home the message of individual responsibility and understanding that minor changes can transform our safety performance.