Explore our Flexible Foams business line
Our Flexible Foams business line provides durable solutions for a wide variety of customer needs in areas such as silencing, sealing, filtering, carrying, protecting, supporting and comforting. In general, we focus on the production, transformation and commercialisation of predominantly customised, semi-finished products in flexible polyurethane foam.
Recticel Flexible Foams
Portal

Discover what foam can do for you

Transforming
the automotive world

Transforming the world of
industrial equipment

Transforming
seating & sleeping support

Transforming
medical support surfaces

Transforming consumer goods

Transforming the world of
sports & leisure

Transforming consumer goods
& medical devices
We organise our foam activities around two poles: Comfort Foams, which mainly comprises bulk commodities for upholstered furniture and mattresses, and Technical Foams, which offers specialties for higher value-added applications. Technical foam types are used in a wide range of applications, such as sealing and silencing in passenger cars and industrial equipment, sponges, scouring pads, filters, paint rollers and packaging.
Our passion for comfort
Our customers are constantly finding new applications for PU foams. They are used in vehicles, mattresses, sofas, packaging, medical equipment, specific materials for sport and leisure facilities and in all kinds of industrial equipment. Many everyday consumer goods would be unimaginable without their unique benefits.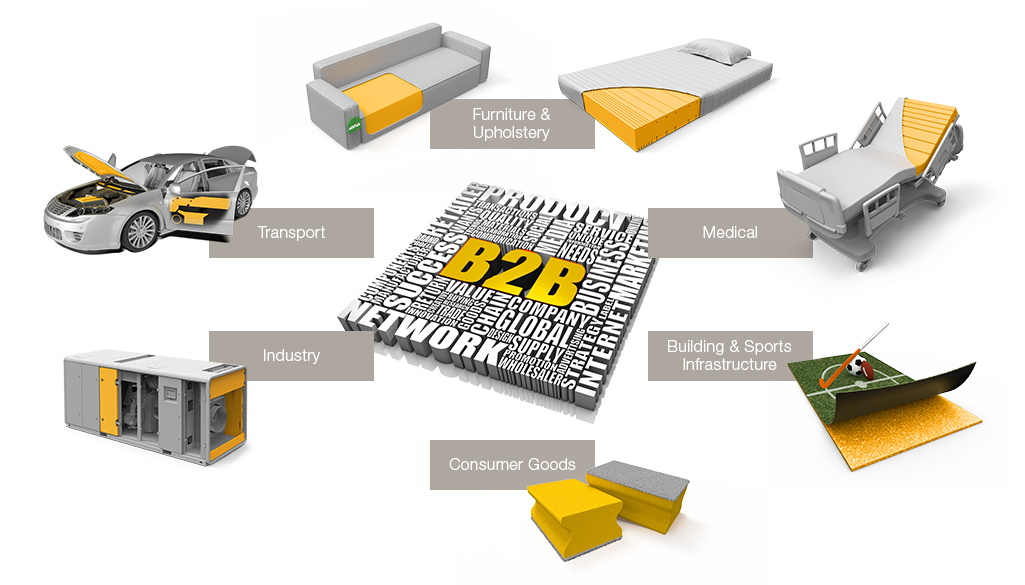 The key to the success of PU foams is their seemingly endless versatility. They can be tailored to almost any application and we are continually innovating to optimise our product range in line with new demands and ideas. We have a comprehensive portfolio of solutions that provide the functionalities required by every market we serve. This has resulted in a diverse offering, which we organise around seven product attributes: Silencing, Sealing, Filtering, Carrying, Protecting, Supporting and Comforting.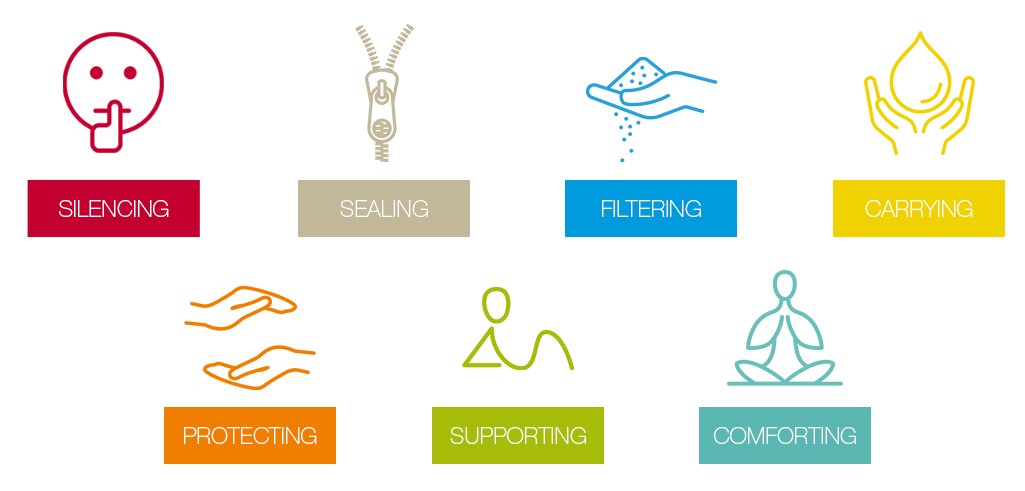 Our Flexible Foams financials
Flexible Foams has always been the largest of our bisiness lines. It accounts for 41.2% of our Group's total combined sales.
Combined sales 2019 (before intra-Group sales)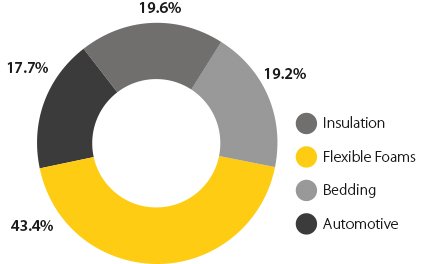 Combined sales Flexible Foams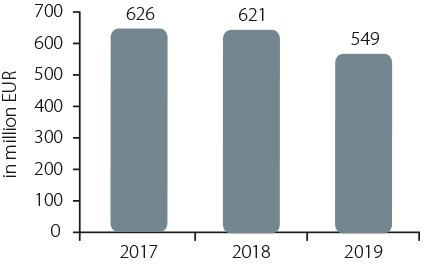 Combined 2019 sales Flexible Foams (EUR 549.1 million)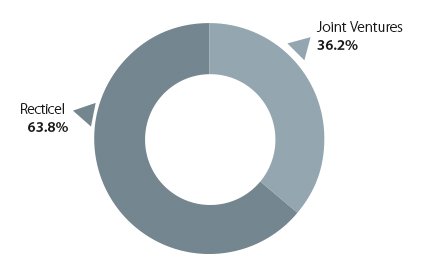 Our global activities
Today, our Flexible Foams division operates 11 foaming plants and 23 converting plants across EMEA, Asia-Pacific and North America. Additionally, Flexible Foam activities in Central and Eastern Europe are managed through Eurofoam, our joint venture with the Greiner Group (Austria), while business in Italy is covered through Orsafoam, our joint venture with the Orsa Group (Italy).
Excluding our joint venture partners, we employ almost 2000 people across the world.
Our dedication to innovation
The Flexible Foams business line capitalises on the Group's centralised R&D platform: the Sustainable Innovation Department (SID).
This centre for innovation focuses on developing new products, improving existing ones and optimising production processes. It includes dedicated portfolio managers who coordinate projects in close contact with different business departments. As well as picking up market needs, our portfolio managers challenge the status quo with new ideas. Through a market-driven approach, new platforms are initiated to generate innovative concepts.
Our R&D activities also focus on sustainable innovations to uncover new solutions for the circular economy. The Flexible Foams division's sustainability practices are fully integrated with the Recticel Group's sustainability policies.