Explore our Automotive business line
Our Automotive business line is clustered around two distinct activities: Interiors and Seating. Both serve highly demanding global Tier-1 customers as well as original equipment makers (OEM) in the automotive sector. Our solutions help to make cars lighter and thus more fuel-efficient. In a demanding automotive sector where just-in-time deliveries are crucial, our technical expertise and the flexibility of our manufacturing set-up, are seen as a competitive advantage.
CLICK ON A BRAND LOGO TO VISIT OUR AUTOMOTIVE WEBSITES
The Interiors division produces instrument panels and door panels in one-piece, large surface modules with integrated lower parts and seamless surfaces. Recticel's proprietary spray technology (Colo-Fast®) allows production in multi-tone and multi-grain designs and stands out because of the enhanced freedom they offer to designers and manufacturers. In addition, the Interiors division provides lightweight 3D components for door panels, armrests, interior trims, cabriolet top covers, load floors, rear shelves and wheel arch panelling.
Our Seating activities are developed through Proseat, a 75/25 joint venture between Sekisui Plastics Co.Ltd.and Recticel. Proseat's geographical coverage is restricted to Europe, where it offers moulded comfort foam pads for car seats. Over the past few years, Proseat has gradually diversified its product offering by adding trim parts and EPP parts (Expanded Polypropylene Parts) to its catalogue.
Our passion for comfort
Over the years, Colo-Fast® has undergone continuous improvements and upgrades. These led to our popular Colo-Sense® Lite material, consisting of a dual-layer surface that offers considerable weight reduction and lower emissions. It makes a valuable contribution to sustainability and cost-efficiency, and is currently very well-received by the market.Recticel Interiors products can be found in vehicles produced by many of today's leading manufacturers, including BMW, Mercedes, Volvo, VW, Porsche, PSA, Renault, and Scania.

The product portfolio of the Interiors division comprises surfaces and components for instrument panels, glove boxes, doors and small cover parts. It has the potential to extend to pillar covers, roof trim panels, centre consoles, side trim components, armrests, seat panels and rear panels.

The parts are produced by Recticel's patented spray technology using the following processes:
Colo-Fast® Spray Technology and Classic Backfoaming (CBF)
Colo-Fast® Spray Technology Reaction Injection Moulding (RIM)
Colo-Fast® Spray Technology Reaction Injection Overmoulding (ROM)
Colo-Fast® Spray Technology Compolite Technology

Proseat's comprehensive portfolio includes:
Moulded foam seating pads that enhance comfort and deliver various functionalities, such as heating, cooling and ventilation.
Moulded foam trim parts for headrests, armrests and other components enhancing comfort in the car interior.
EPP (Expanded Polypropylene Parts) with versatile properties used in boot luggage management and in the production of bumpers, headrests and cushion inlays.
Our Automotive financials
Combined sales 2019 (before intra-Group sales)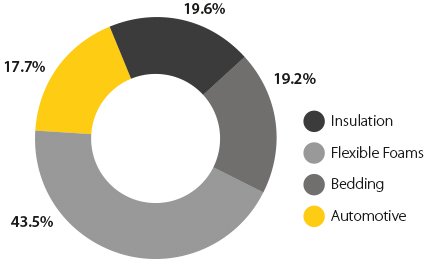 Combined sales Automotive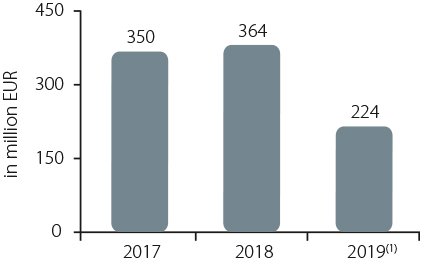 (1) Proseat is integrated in the 2019 combined figures according to the 'equity method', i.o. previously on a proportionate basis. Figures of previous years have not been restated.
Our footprint
Our Automotive Interiors division operates globally from ten production sites in Germany (2), the Czech Republic (2), China (4) and the United States (2). Its commercial and project management activities are steered from its headquarters in Königswinter, Germany.
Our Seating division (Proseat) has 8 production sites in the Czech Republic (1), France (1), Germany (2), Poland (2), Spain (1) and the United Kingdom (1).