Foam Expo Europe - Speaker Interview: François Desné
On 16-18 October 2018, Recticel and Eurofoam will be exhibiting at Foam Expo Europe 2018 in Booth 315. Foam Expo is Europe's dedicated exhibition and conference for the technical foam manufacturing supply chain.
Foam Expo's Conference producer Fleur Jonker interviewed François Desné, Group General Manager Flexible Foams at Recticel, on the key themes driving the foam industry at present: cost-performance ratio, digitisation and sustainability.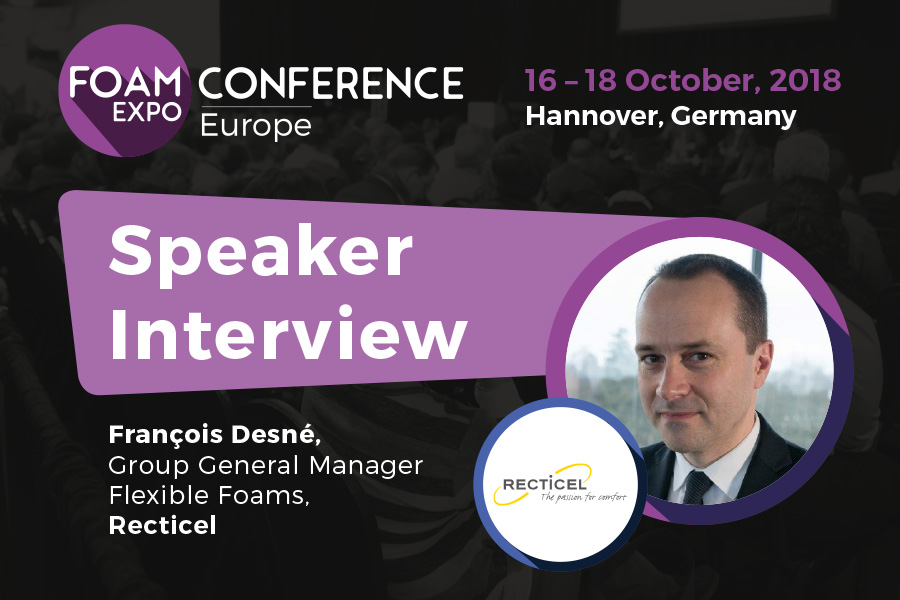 François Desné will be speaking in the Track 1 'Leadership Panel: Outlining Industry Trends in High-Performance Foam Markets to Identify Technology Innovation' conference session on Tuesday 16 October. For more information on the conference and exhibition or to register for a free pass, please visit www.foam-expo.eu

You are going to be a part of the leadership panel at the opening session of Foam Expo Europe. What do you view as the key technological innovations and new developments in the foam industry in recent years?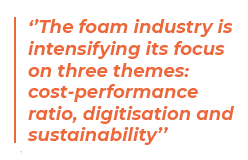 The foam industry is intensifying its focus on three themes: cost-performance ratio, digitisation and sustainability. Firstly, we are receiving more requests for innovations that take the economic aspect into consideration. This is contingent on today's record prices for raw materials, which are forcing the value chain to explore more cost-effective solutions. Secondly, we have seen the adoption of advanced digital tools to improve operational effectiveness. For instance, the use of big data management is now combined with advanced tracking devices to improve the efficiency of manufacturing processes. In this context, Recticel has embarked on a multi-year project to digitise its foaming lines, representing a step change in the quality and the capability of its industrial processes. Lastly, sustainability is growing in importance. This ranges from the wider use of more environmentally friendly raw materials to the adoption of renewable energy. Recticel is also embracing these changes with innovation projects aiming to replace aliphatic solvent with water-based solutions for acoustic applications or the introduction of KAPUA©, a comfort foam using the sustainable polyol cardyon developed by Covestro, hereby helping to protect the environment by saving precious fossil resources and removing harmful CO2 from the atmosphere.
Throughout the high-volume polymer industry there is an increasing expectation that circular economies will be considered, and life-cycle assessments will be carried out. How do you see this trend affecting the foam industry?
Both circular economies and life-cycle assessments offer opportunities for the high-volume foam industry. The quest to increase the use of recycled materials will create opportunities to innovate. For example, the French government has set the long-term objective of eradicating used bedding and furniture from landfill while increasing the share of recycled mattresses to 60%. We can expect that trend to extend across Europe and to other industrial segments. It will create several challenges across the value chain: collection of material, dismantling, waste control and finding ways to achieve the same technical performance with recycled substrates. Life-cycle assessments will give the polyurethane industry the opportunity to demonstrate that its value chain can be as ecologically efficient as that of recycled or natural products, such as mineral composite and natural rubber which require massive amounts of energy for processing and hence a higher carbon footprint. It is up to us, the polyurethane industry, to innovate and communicate better so that we can transform these challenges into opportunities.

Legislative drivers are obviously placing significant pressure on the automotive industry to change. Weight reduction will be key to cutting emissions from combustion engines and broadening the range of electric vehicles. Do you see an increased role for foam applications within this sector?
Foams help to improve the appearance of a car interior, as well as its seating comfort and noise control. There is an estimated weight of 15 to 24kg of polyurethane foam in every car. Weight reduction is therefore a trend among all major OEMs and will drive innovation in the next generation of dashboards and car seats. It is less of a concern for flexible foams used in headliners, seat covers and acoustic insulation for engine blocks and HVAC, as the foam weight in these applications only amounts to a small share of the total foam weight in a car. For years, Recticel has placed weight reduction at the core of its innovation strategy. The Group is devoting a significant share of its annual research and development budget to the reduction of automotive weight. This resulted in the launch of Recticel's patented Colo-Sense Lite technologies. These renowned pigmented, light-stable polyurethane compounds reduce weight by 25% compared to traditional thermoplastics and represent Recticel's concrete contribution to the reduction of emissions from combustion engines and the extension of driving ranges for electric vehicles. Our focus on weight reduction will continue as we seek to improve the carbon footprint of the transportation industry.

What other emerging global trends do you expect to have an impact on the foam industry within the next five to 10 years?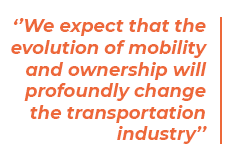 We expect that the evolution of mobility and ownership will profoundly change the transportation industry. On one hand, consumers will expect improved seating and acoustic comfort in self-driving vehicles that will be increasingly considered as a 'living space' rather than a mere means of transportation. On the other hand, the growing tendency to 'share' assets could encourage the transportation industry to develop parts that are washable, replaceable or expendable. Both of these trends will offer innovation potential for flexible foam products, on which Recticel is actively working. Another trend, with closer links to our operations, is the implementation of stricter regulations in occupational health and process safety, forcing foam producers to keep raising the bar in their health, safety and environment standards. As the foam industry operates Seveso III sites, the continuous improvement of safety in the working environment is a licence to operate. Accordingly, Recticel has placed health, safety and environment at the core of its sustainability strategy with the ambition of becoming the industry benchmark.

What are the barriers to success for the industry and what can be done to tackle these challenges?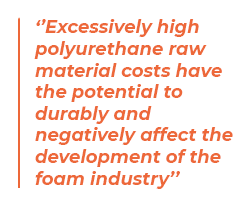 Excessively high polyurethane raw material costs have the potential to durably and negatively affect the development of the foam industry. Over the past 24 months, raw material prices have risen to levels that have not been seen yet in the industry. The value chain has responded with a drastic wave of cost reduction measures, as well as series of necessary price increases. As the increasing cost of raw materials has cascaded across the industry, foam users have considered alternative solutions and substituted their polyurethane with other materials (for example, lower density, standard grades and cheaper but less effective materials), thereby reducing the overall demand for polyurethane foams. What we can do, as foam producers, is to support our customers through the development of more cost-effective solutions. But in the long run, if raw material prices stay at the present level, this will not prevent end users from using alternative solutions favouring cost at the expense of performance. A more effective measure would be to ensure better reliability and broader availability in the polyurethane supply chain. In short, to have a raw materials supply base that can support the growth in demand for flexible polyurethane foams: a global market that is estimated to reach €20 billion by 2022.

What are you most interested in learning from Foam Expo Europe 2018 and which particular audiences would you like to reach while you are there?
Foam Expo Europe 2018 will be a unique platform for fostering dialogue with our downstream value chain. I am looking forward to an event that will engage foam producers with key stakeholders in the foam industry. I am primarily interested in learning more about best practices in areas such as digitisation of the value chain, big data management and advanced process automation. Secondly, I am eager to see how we can expand our offering to meet the growing needs of foam users. For instance, Recticel is developing solutions for noise reduction by combining engineering expertise with advanced foam technology to design complex acoustic kits that meet specific decibel reduction targets. This has a wide range of potential applications in the industrial, automotive, aviation and aerospace segments. Thirdly, I would be pleased to reach out further to technical institutes and universities working on themes such as sustainable recycling of thermosetting compounds and life-cycle management. The event will also allow us to discuss our latest eco-efficient innovations and explore potential partnerships to address challenges in our value chain. Face-to-face contact with foam users remains a key element in a communication process that supports the development of innovative solutions. Therefore, we are very excited to be part of this first edition of Foam Expo Europe.